From Banker to Business Owner, Fibrenew Franchisee Takes Charge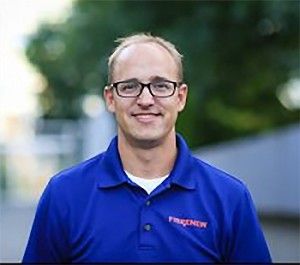 Josh Colwell admits he felt stuck in his former career. As a banking professional, his days were habitual, standardized routines where he was confined to his office. "I enjoy people, but the banking system isn't really about that," he explains. For 10 years he plugged along, supporting his wife as she started her online retail business. Colwell looked here and there for new opportunities that would allow for more interaction with people, and after reconnecting with an old friend he finally found what he was looking for.
Daniel Sheetz owned a thriving Fibrenew franchise and invited Colwell to join the business as his technician. Wanting to return to his farming background, Sheetz was looking for someone with passion and drive to take over Fibrenew Central Iowa as leader in leather, plastic and vinyl restoration. Colwell found the hands-on, creative problem solving elements of his technician's role as a welcome surprise. "It was something that was missing from my day-to-day life. I really enjoyed it."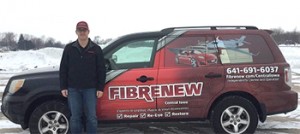 Ten months into his technician's role, Colwell purchased the business. "It was the right time. I knew it was an opportunity that doesn't come along often, so I figured, 'Let's go.'" With the support of his wife, he has earnestly embraced his new role as entrepreneur, setting — and achieving — high standards for his Fibrenew Central Iowa franchise. The quality of the brand is something Colwell takes pride in being part of. "I am a big believer in our products and what we do. The [Fibrenew] trainers and support team help push me to another level of proficiency and raise my standards."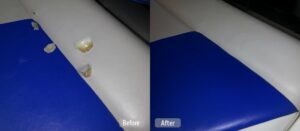 One of Colwell's goals is to propagate as many new partnerships as he can during his daily sales and administrative duties and on-site appointments. Drawing on his corporate training — which he describes as essential to giving him confidence and allowing growth of the business beyond where it was — he makes it a point to start relationships with his clients, cultivating trust and establishing solid customer service. During a recent service call, Colwell met with a client from the insurance industry. After chatting about Fibrenew's services and products, the client passed along to Colwell the contact information for several industry managers in the region, allowing an immeasurable opportunity for Colwell to extend his client base.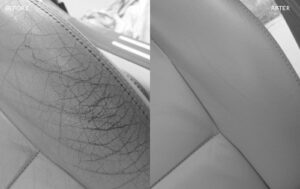 With Colwell's plan for continued growth well under way, he anticipates hiring a technician within a few years to help accommodate for his expanding customer base and to continue offering top-quality customer service. "I want to be the go-to guy in my region for leather, plastic, upholstery and vinyl." His goals include broadening his services and eventually bringing his wife on board as well.
In the meantime, the Colwells are looking forward to their family expanding and are taking their entrepreneurial lifestyle in stride. "We enjoy working hard and playing hard. I'm optimistic about how Fibrenew will change my future and I'm looking forward to hitting the benchmarks along the way." To those considering becoming a Fibrenew franchisee Colwell is encouraging. "It's going to be a lot of hours but it's worth putting the work into. There's reward in the end."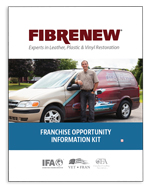 Are you looking for a new career where you can be your own boss and take charge of your financial future? Fill out the form below to download a PDF Information Package and learn more.
Our promise: no high pressure sales calls, just the info you want.
Fibrenew respects your privacy. We may contact you with further info about our franchise opportunity but we will not sell or distribute your personal info to a 3rd party. 
Comments: