Business as Usual: Fibrenew Regina has a New Face but Same Unbelievable Service
Happenstance put Jay and Kelsey Stewart in the captain chairs of Fibrenew Regina. Hard work and the drive for success are what's keeping them there.
The Stewarts always planned to own a business together. In fact, they were 'this close' to owning a different franchise when the deal fell through unexpectedly. At the time, Jay was managing a medical clinic. One day, after the clinic's receptionist called in sick, Jay took over front-desk duties in her place. As it happened, an ad for Fibrenew came across reception's computer monitor. The next thing Jay realizes, he spotted a Fibrenew van pulling up in front of the clinic. Norm Dick, the then owner of Fibrenew Regina had an appointment booked. The two struck up a conversation, which led to Norm saying they were looking to sell the franchise to the right people.
"It's grown from there!" Jay laughs. "We were both in the right place at the right time."
Fibrenew Regina has been experts in leather, plastic, and vinyl repair and restoration for two decades, having a secure and diverse base of clients. Norm and Denise are still involved with the business, making the transition easy. "We're still getting advice and guidance from them," says Jay. "They've been fantastic – they help with everything and anything we need, even on short notice."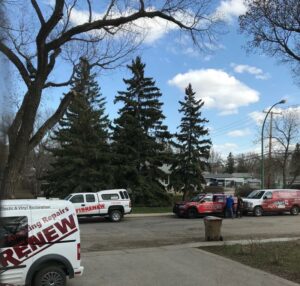 This partnership between old and new owners has ensured Fibrenew Regina's existing customer base are guaranteed the same quality of service. Jay and Norm travelled together to meet the territory's existing clientele face-to-face for introductions. "It's business as usual," Jays says.
It's been a few months since the Stewarts took over, and Jay is still amazed at the pace of business. "It's been crazy since day one!" he exclaims. Norm focuses on the furniture repair and restoration contracts, while Fibrenew Regina technician Wayne spend his time with automotive clients. Jay does a lot of everything – from body shop calls to insurance contracts – and enlists Kelsey's help on the weekends. Within the next year, they plan on transitioning her full time to Fibrenew Regina.
The mobile leather, plastic, and vinyl repair and restoration company services the City of Regina, some in Moose Jaw, and is even expanding to the southeast communities of Weyburn and Estevan. "There are a lot people with boats, RVs and toys down there," Jay explains.
The initial contracts he's completed in that area followed a target Facebook ad campaign. The idea of a strong social media presence – such as producing engaging videos and hosting exciting giveaways to keep the Fibrenew brand front and centre in their audience's minds – is all part of Jay's plans for growth. This brand recognition is something the Stewarts appreciate about the Fibrenew family. One recent video targeted to Regina and surrounding areas resulted in more than 50 phone calls the following day. And it is not uncommon for Jay to be stopped while out in public to hear people comment on the Fibrenew vehicle.
How is running his own successful, established Fibrenew franchise different from managing a medical clinic? "I can wear shorts in the summer!" Jay laughs. "Honestly, just being my own boss. I love the work I do. And the difference in income is almost night and day."
For leather, plastic or vinyl repair in Regina, contact Jay and Kelsey Stewart at www.fibrenew.com/regina or 306-536-0998