Boring, Normal and Predictable Are Not Part of Fibrenew's Vernacular
This unique story was submitted to us from our franchisee in Wellington, New Zealand. Andrew Thomas recounts his week-long experience aboard a cruise ship as he refurbished the ship's leather booth seat couches. This brings new meaning to a working holiday! Enjoy.
---
I received a call from the Wellington Port agent at the cruise terminal a week before Christmas with a request from the MS Noordam cruise ship to have someone inspect and potentially work on some damage and wear on a couple of leather booth seat couches in the Pinnacle restaurant on board. I made arrangements to go aboard a few days before Christmas to see what we could do for them. I was expecting to carry out a few repairs that afternoon from the photos that were forwarded to us and upon inspection they asked me to quote the whole restaurant (15 booth seat couches in total). As you can imagine I was certainly not expecting that!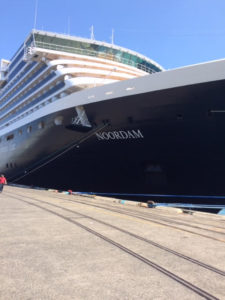 I looked over the couches trying to get an idea of how this could be done given that the ship was mid cruise and the restaurant was in use every day for lunch and dinner. I felt that the work could be done over a week with up to three couches done per day, I suggested that this could work if the restaurant would not use the section that had just been done as that would give the couches the longest time to cure given they were open each day.
The ship asked for a quote and said to me "how would your wife feel about you being at sea for a week" and I replied "she would want to come along" I sent the quote that afternoon and in the second week of January 2016 they confirmed and accepted.
I couldn't believe it at first, however after a few days it sank in. I made a list of things I would need and then ordered what I felt would be enough product to get the job done, I certainly did not want to run out as it could have been difficult to get extra product on board and it would have looked unprofessional!
The start date was set for the 9th of February 2016 to the 16th which gave us a week. The ship was due back in Wellington on January 22nd, so I went back on board to see the couches again, organise getting our equipment on board and to meet with the restaurant manager.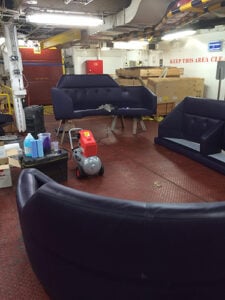 On the 9th of February I loaded our equipment and supplies during the day and Megan and I boarded the ship that evening. We were checked in and were given free accommodation, meals and laundry which we did not expect! I met again with the restaurant manager and we organised to start that night with three couches. The crew would remove the couches and take them to the area which we would use to work on the couches, it was a large storage area below deck one which is used to load and unload supplies etc.
The crew were quite rough and didn't seem to care about how they got the couches from A to B, the first couches had extra damage from the removal, I had to speak to the Chief staff engineer to ask if the crew could be more careful.
The next evening the crew were a little quiet towards us but no extra damage so all good. We would start at around 11pm and finish at around 6am the following morning. The couches took a lot of colour and I used 5 containers of colour coat in total with one container to spare. When we finished we would have breakfast and then go to bed, we would get up around 1pm and have lunch, then have another sleep at around 5pm, we would have dinner at 9pm and then go to work from 11pm.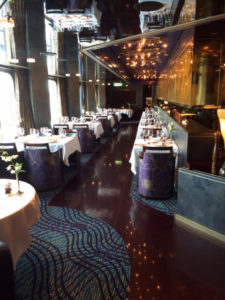 We would organise with the restaurant manager each day which section we could work on and the crew would deliver the couches to our work area, the crew would then put the completed couches back in the restaurant later that day and that section would not be used until the next day which worked out well.
The ship was very pleased with how the couches turned out. I hoped they would be happy however sometimes it's hard to tell how they will look until the first ones are done. I applied protection cream on the last day of the cruise and have contacted the ship to re apply more when they are in Wellington next to keep the couches in top condition.
It was hard work but well worth it. If we were to do this again over a week I would take an extra person to lighten the work load and if we had two weeks to complete the work two people would be fine. We are hoping we get more work from the Noordam and hopefully other cruise lines, there are going to be 90 ships coming through Wellington next cruise season so there should be opportunity for more work with a bit of luck.
If any one ever gets this type of opportunity they should go for it. It worked well for us given we were going in to the unknown, however if you are flexible and are willing to work with the ship's crew, it can be done!
– Andrew Thomas
Fibrenew Wellington

Fibrenew respects your privacy. We may contact you with further info about our franchise opportunity but we will not sell or distribute your personal info to a 3rd party. 
Comments: