Awesome Ann: A Successful Fibrenew Franchise Owner Balances Work & Home Life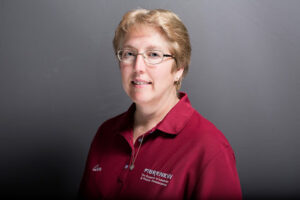 Ann Benes and her family were looking for a small business franchise opportunity that would help supplement their farming income. Ann's husband Pat was initially going to be the one running the business. The plan was to use the flexibility of owning and operating a Fibrenew franchise while he continued to operate the family farm. However, over 14 years later, Fibrenew Lincoln is now operated by Ann while Pat works the farm full time. The flexibility factor is still a huge perk for their family as Ann is able to work around the kids' school and extra curricular schedules and still have plenty of extra family time.
A typical day has Ann seeing her children off to school in the morning before taking her Fibrenew vehicle out to complete various types of Fibrenew leather, plastic and vinyl repairs for her customers in and around Lincoln. Ann structures her schedule so she's able to be home shortly after her children arrive home from school. This is when she tackles the day's paperwork and answers emails and return phone calls. For now, it is a successful framework. When asked what the future holds for the Franchise, Ann says she just takes it year by year. As with any small business owner, their goal each year is to see growth. Down the road, one of their children may want to take part in operation or they will look at the possibility of selling the business.
Ann shared with us a story about her favorite Fibrenew project; It was the restoration of two aniline leather chairs in a psychologist's office. The chairs were originally a brilliant royal purple color but after years of sitting in a north facing window, they had faded to a pale lavender color. The owner had attempted to re dye them himself but was left with more a blue color than the purple he was looking for. Ann says those chairs were among her favorite pieces to restore as they were so unique.
Ann's advice to possible new and existing franchisees is to never stop learning. She regularly makes time to keep up on all the new techniques and information. She credits that as well as the Fibrenew training and support with helping make her business successful. Her advice to people looking at a Fibrenew Franchise business opportunity is that they persevere through the initial few months to build a successful business, she says it is not an overnight success, but that it is worth it.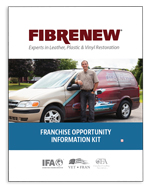 Are you looking for a new career where you can be your own boss and take charge of your financial future? Fill out the form below to download a PDF Information Package and learn more.
Our promise: no high pressure sales calls, just the info you want.
Fibrenew respects your privacy. We may contact you with further info about our franchise opportunity but we will not sell or distribute your personal info to a 3rd party. 
Comments:
Related posts:
Tags:
alcohol based, Benefits of cleaning leather, Benefits of cleaning vinyl, boat, car, clean, cleaning, cleaning products, clean leather, commercial, couch, couch destruction, couch repair, cracked leather, dark spots, DIY, dried out leather, faded leather, Fibrenew, fix, fully-finished leather, hairspray, home re-model, how to clean leather, leather, leather chairs, leather furniture, leather products, leather restoration, leather sofas, leather sources, leather types, markers, motorcycle, oil, oil damage, olive oil, plane, plastic, prevent damage, refurbish, repair, restoration, sagging, sun damage, types of leather, used furniture, used leather, vinyl, water damage,