A Fibrenew Franchise Trailblazer: Paul Gingras
Written by Mary Vinnedge of Franchise Consultant Magazine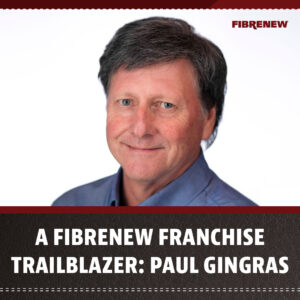 Paul Gingras has enjoyed a long, happy, and successful run with Fibrenew. He has worn three hats with the company: he was first a technician, then became a long-time franchise owner, and today, Gingras serves as the Head of Support for the franchise system, which is headquartered in Alberta, Canada.
"I started my Fibrenew journey in August of 1986 as a technician," says Gingras, who made a major career change to work with the franchise, which does on-site repairs to leather, plastic, and vinyl by using the company's proprietary products and processes. "I chose Fibrenew as a business because I believed it had great potential."
A TRUE TRAILBLAZER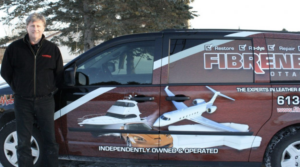 Gingras had remarkable foresight because three and half decades later, Fibrenew has established itself as "a trailblazer as it has never settled for the status quo. Fibrenew is always trying to improve itself. Our training, technical support, business support, and product development are constantly refined and improved."
The company is also a trailblazer in terms of the tremendous advantages provided by its business model. No employees are necessary to start, it operates as a B2B and B2C, and a franchise can be home-based and mobile with no storefront or shop to lease, which keeps overhead low.
Gingras admits that putting all his eggs in the Fibrenew basket was a gamble back in the day. "I quit my job as a warehouse manager at a trucking company, sold my house, and purchased my franchise in late 1987. At that time, it was a risky decision as Fibrenew was an unproven business model at the grassroots level."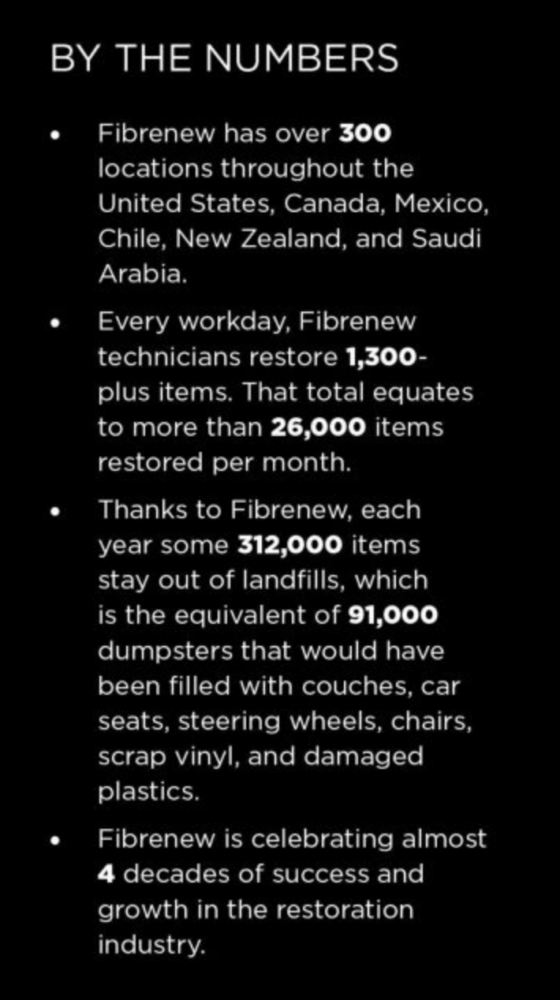 Building his start-up business took some time, he says. "Establishing a customer base was a challenge at the beginning, but it grew steadily. I started adding technicians in my first year, and at my peak, was running 12 techs."
He set two priorities for his franchise and achieved both. "My Fibrenew business was unmatched in both customer service and quality workmanship," Gingras proudly states. Today, those are two priorities that all Fibrenew franchisees keep top of mind in running their businesses.
Gingras believes that a Fibrenew franchise presents a huge opportunity for entrepreneurs. "Fibrenew is a rewarding business that is limited only by the owner's ambitions. You can build Fibrenew to whatever level you want. Owners enjoy flexible working hours and financial freedom."
A BUSINESS WITH LEGS
He also says that the Fibrenew franchise is a business with legs. "You can make a long career with Fibrenew. I've been at it for more than 36 years, and I still enjoy it daily. In 2014, I sold my franchise to two of my technicians and began working with the corporate office."
Gingras sees four factors as keys to franchisees' success: "If you enjoy working with customers and making them happy, if you enjoy working with your hands and in various markets, then Fibrenew is the place for you."
Fibrenew is a mobile service franchise with just over 300 locations. It saves customers time and money by offering an alternative to throwing away damaged couches and chairs, car and marine components, commercial furniture, and more. When customers choose to repair rather than replace their damaged goods, it keeps those items out of landfills.
Fibrenew pledges to help franchisees successfully operate and grow their businesses to provide for their families, build personal wealth, and have fun along the way. Franchisees will need to invest from $89,000 to $109,000 to start their business, including a franchise fee of $47,000.
Comments: