A Clear Choice For Life After Military Service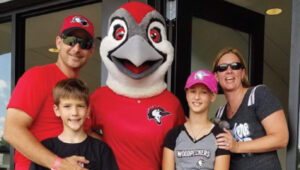 Fibrenew checked all the boxes for this U.S. Army Veteran and his family
After serving in the military for 26 years, Benjamin Burt knew the value of teamwork and a collaborative atmosphere. He wanted to have the same type of environment in his next step. In choosing a second career and franchise business, Fibrenew's corporate culture was the deciding factor for him.
Although Benjamin never aspired to own a vinyl and leather repair franchise, Fibrenew's opportunity checked all the boxes for him as an ideal business. Among them were scalability, low start-up costs, and a flexible schedule. "To be honest, the thought of vinyl and leather repair didn't seem very interesting, but as I spoke to Fibrenew franchisees, I realized that it was an opportunity to be part of something really special," he says.
The company's culture was especially attractive for Benjamin. "Franchisees work collaboratively. They give each other ideas for potential business as well as strategies for techniques. The culture is inclusive and helpful, not competitive. Everyone shares their knowledge," he says.
RESILIENT BUSINESS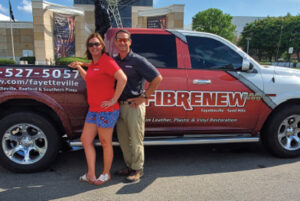 Benjamin was extremely impressed with the company's resilience through Covid. "Because of the endless applications for business, franchisees didn't have a problem getting work during the shutdown periods. Some pivoted to different types of jobs or clients," he says. "While other local businesses were struggling through the pandemic, Fibrenew
franchisees had steady work."
Benjamin has a number of commercial clients including camping and RV dealerships as well as medical offices, plus residential clients who find him organically. "The number of industries and types of clients you could work with is really mind-blowing," he says.
Although Benjamin has only been operating his Fayetteville, North Carolina location for a short time (he officially opened for business May 1, 2021), he already feels like he is part of something bigger. "Fibrenew is my extended family. I have already made great friends and feel very well supported," he says. From the start, he was impressed with the systems and training Fibrenew provided, two items he values as a former Army Sergeant.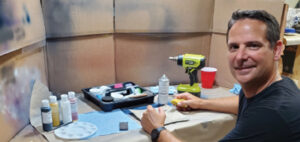 Since opening for business, Benjamin has worked as the owner/operator and has enlisted his wife Dawn for help. Dawn is an elementary school principal who has been working with their social media marketing, in her free time.
A self-described tinkerer, Benjamin enjoys the hands-on work, but eventually plans to scale the business by hiring a manager and several technicians and take on more of a semi-absentee ownership role. He is well on the way and has already hit the break-even point of his investment — three months ahead of schedule. "This business has already paid for itself in one month. I couldn't be more pleased," he says. "It's great that you can generate revenue immediately and stay busy at a desirable pace." Fibrenew's digital marketing initiatives pushed business my way immediately," he says.
Because Covid has shut down the Canadian borders, Benjamin hasn't met the corporate team in person yet, but he is looking forward to the company's semiannual get-togethers in Canada. "I can't wait," he says. "It will be like a family reunion."
You can find Ben's Fibrenew Franchise at: fibrenew.com/fayetteville
For more information on Fibrenew franchising, visit: fibrenew.com/franchising