20 Years in Business and Still Growing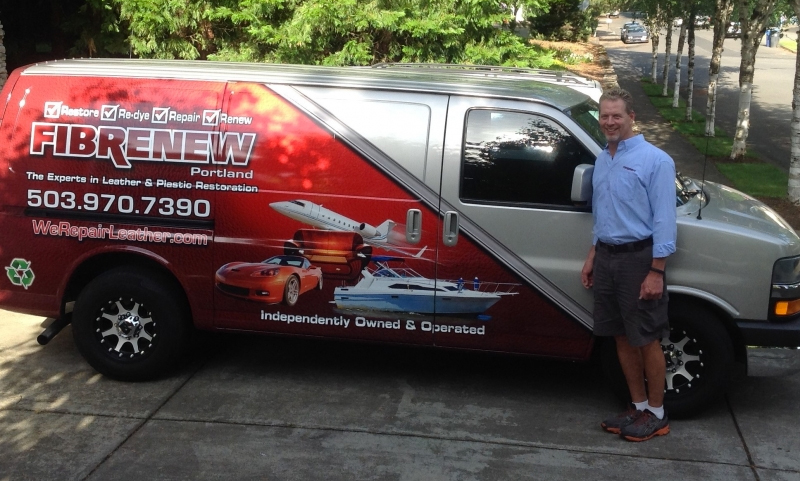 At Fibrenew, we are big on supporting one another. In doing that, we would like to share spotlight interviews with our franchisees. Today we are looking at Dan Hoffman and his Fibrenew Portland franchise in Portland, Oregon.
Dan has been a part of the Fibrenew family since 1995. Born into a family of mechanics, the automotive industry seemed a likely fit for Dan. But after spending some time as a paramedic/firefighter, he opted to start his own Fibrenew Franchise. Today, Fibrenew Portland is a multi-unit business with a hired technician, Dan's son, and Dan himself. In the next 5-7 years, once his son is done school, his plan is to add more technicians and expand his business. Even after 20 years of operation in the Portland market, Dan recognizes that there is still plenty of room to grow.
Dan says one of the reasons he selected Fibrenew was the quality of leather, plastic and vinyl restoration products and the proven franchise business model. That and the flexibility of being an owner / operator and what that meant for his family's lifestyle.
His most memorable project to-date has been the restoration and custom leather dye job of the seats of an older model Lamborghini Diablo. The customer requested a very specific dye pattern of a fade from neon yellow to neon green to neon blue with blue trim. It was a time consuming job but both he and the customer were satisfied with a job well done. It is those satisfied customers and their word-of-mouth referrals that have helped build Dan's business.
Dan's advice to anyone looking at starting their own Fibrenew franchise; count on at least two years of hard work in building your customer base. Once that is established, the many rewards of owning and operating a successful franchise business will take shape.
On top of Dan's commitment to his Fibrenew franchise and family is his commitment to his personal health and wellbeing. Dan starts each and every day with 90-120 minutes in the gym, in addition to being conscientious about what he eats and drinks all day.
If you are in need of leather, plastic or vinyl restoration in the Portland, Oregon area, contact Dan Hoffman: fibrenew.com/portland
Comments: