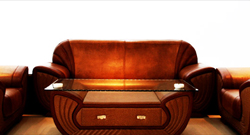 Damaged leather furniture whether it is torn, worn, or faded, chewed by the dog, or covered in cat scratches, can be restored by the Fibrenew service. Blemishes such as burns, stains and cuts can also be restored to the original condition. The before and after results are amazing!
Fibrenew can repair damaged furniture that has:
Food and wine stains
Burns, rips, worn-out areas
Ink or crayon markings
Fading or cracked material
Much more…
.
Amazing Before and After Results for the Residential Market