UPDATES FROM FIBRENEW WEST
Dec 23/2010
We were recently featured in a Westside Today story about the emotional value of the some of the items that we restore. Sometimes a customer's ottoman is more than just a piece of furniture. It can hold strong sentimental value as a family heirloom.
Snippet from the article: "One customer brought me this old ottoman. It wasn't a fine piece of furniture by any means, but it was something that was in his family home as a child, and he wanted to preserve it."
If you have a damaged leather, vinyl or fabric family heirloom items that you wish to have refurbished, please contact us, we'll be happy to help you!
Sep 24/2010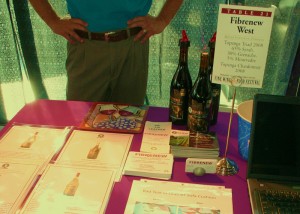 Thank you to all who came out to the Woodland Hills-Tarzana Chamber of Commerce 4th Annual Fine Wine and Food Festival. Somewhere between 300-350 attended and we experienced a good reception to both our Fibrenew service and the local Topanga Milan Vineyards wines we poured. In addition to seeing some of our clients, we met many new prospects expressing interest in our leather, vinyl and plastic repair business. It was a great night and we look forward to doing it again!