At Fibrenew South Fox Valley, our moto is DWYSYGTD. What that means is "Do what you say you're going to do". We strive to impress you with what we are able to do, and we have the tools to do things that no one else is able to do. We won't promise things we can't deliver. We strive to under-promise and over-deliver on every job.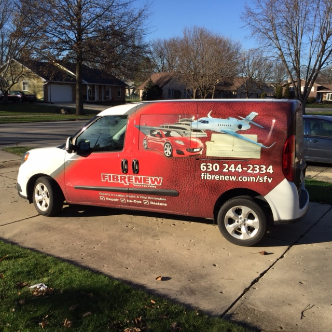 SAVING TIME, MONEY & MOTHER NATURE
Our restoration services save our customers both time and money by offering an alternative to replacing their damaged couches and chairs, car and marine components, commercial furniture and more. Our on-site services also make it more convenient and faster in getting their items back into great looking and working shape again. As an added benefit, we help prevent thousands of items from ending up in landfills each year which helps preserve Mother Nature and reduce our carbon footprint.
TRUSTED PROFESSIONALS SINCE 1987
Fibrenew specializes in the repair, restoration, and renewal of leather, plastic, vinyl, fabric, and upholstery. We manufacture a highly-specialized proprietary product line and have pioneered the repair techniques and exclusive color matching technology that we use every day to help our clients. Whether it's damaged leather furniture, car interior components, restaurant or medical vinyl, boat or plane interiors or vinyl siding and plastic window frames, we're here to help!
WE TAKE THE FOLLOWING FORMS OF PAYMENT
Fibrenew South Fox Valley is proud to provide mobile service for leather repair, plastic, vinyl, fabric and upholstery restoration in and around the following areas:
WE SERVICE THESE CITIES & TOWNS (AND SURROUNDING AREAS)
Ament Corners, IL
Aurora, IL (portions of)
Batavia, IL
Big Rock, IL
Boulder Hill, IL
Bristol, IL
Campton Hills, IL
Elburn, IL
Geneva, IL

Kaneville, IL
La Fox, IL
Lily Lake, IL
Maple Park, IL
Montgomery, IL
Mooseheart, IL
North Aurora, IL
Nottingham Woods, IL
Oswego, IL

Plainfield, IL (portions of)
Plattville, IL
Saint Charles, IL (portions of)
St. Charles, IL (portions of)
Sugar Grove, IL
Wenmoth Acres, IL
Willow Creek, IL
Windenoak, IL
Yorkville, IL

WE SERVICE THESE ZIP / POST CODES (AND SURROUNDING AREAS)
60119
60134
60144
60151
60175
60503
60505
60506
60510
60511
60512
60538
60539
60542
60543
60554
60560
60585