I don't just repair your leather – I'm also a car guy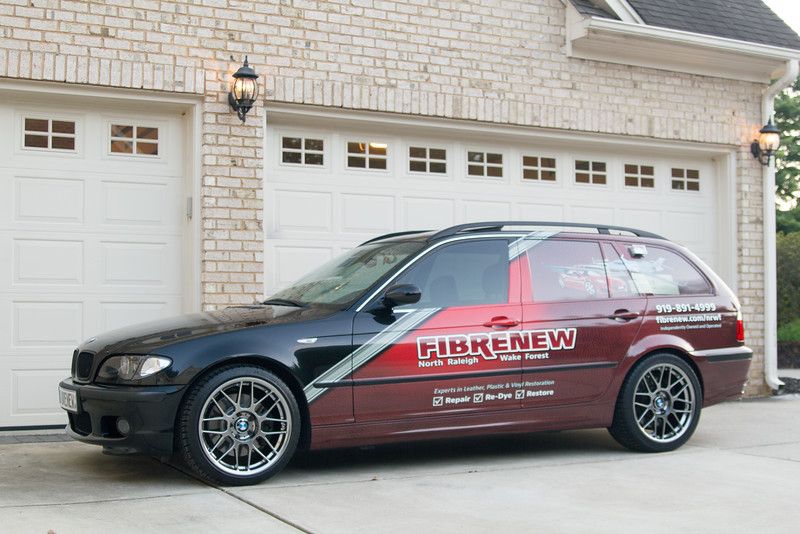 you may think of me as your friendly leather, vinyl, and plastic expert, but beside that and other hobbies, i'm also a big car enthusiast. even my fibrenew vehicle is a showcase of my hobby – it's a custom built bmw station wagon that started life as a 2003 325i wagon residing in a tiny town in vermont. i bought it for a song, after the owner told me the engine was shot (it wasn't – i fixed and sold it).
i then bought the full drivetrain from a 2005 bmw m3 and with the help of a very kind and knowledgeable friend named paul, installed all those parts into the wagon. everything under the metal shell is from the m3 – the subframes, full suspension (upgraded to coilovers), brakes, steering, engine, transmission, differential, etc.
i built it to provide a fun but sporty ride for driving to and from fibrenew jobs and am very happy with how it turned out. you can read more including full build details from start to finish (regularly updated) by going to this thread:
http://www.m3forum.net/m3forum/showthread.php?t=544393
i'm also attaching some photos here for those who are car enthusiasts. i will have it out at local car events regularly and you should even watch for it to be lapping vir (virginia international raceway) this coming fall with the bmw cca tarheel chapter. yes, my fibrenew car will make a fun track car as well!
some key details for those interested:
s54 engine with 81k miles and full vanos rebuild with beisan parts and new rod bearings and all new sensors
bmw getrag 420g 6-speed transmission
bmw limited slip m3 differential
bmw european catalytic converters
custom hybrid m3/330 exhaust
zhp style front bumper and fog lights
m3 style side mirrors with aspheric lenses
apex arc-8 18×9″ hyper black wheels with michelin pilot sport as/3+ tires in 245/35/18 front and 265/35/18 rear
dynavin navigation and entertainment system
custom sapphire black interior trim
custom subwoofer enclosure with 10″ sub and amp
here are some photos so far:
Comments: