It's all about seeing a smile on our customer's face after each job is completed!
Below is a small sample of what some of our clients have shared about their experience with Fibrenew
(spelling and grammar mistakes and all 🙂 )
Have your own review to submit?
Tell us on

or
let us know here
Daniel Schwartzman of Fibrenew came to our home to make the repair!! He did an AWESOME fix on the arm of our wing chair that was damaged by the delivery service. You would never know there were any deep scratches on the arm of the chair! He even had a tool that analyzed the color of the leather, so it PERFECTLY matched!! He was a REAL PRO, and it now looks like the brand-new-chair I bought!!
June Idzal

From:

Daniel is thoughtful and professional. He did an amazing job getting a tough oil stain out of my leather seats. I'm so thankful!
Sophia Gant

From:

I have nothing but great things to say about Fibernew. Daniel is clearly knowledgeable and offers a great product. He was punctual and pleasant to deal with. Our leather looks great! Thanks for the service, we will be using you again!
Yehuda Myer

From:

Daniel was quick to respond. He was able to restore our leather couch, which I thought was not fixable. The color matches perfectly and it looks great! I will definitely use him again.
E K

From: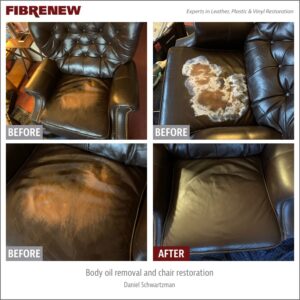 Had an old leather recliner that was totally scratched up and discolored from a previous pet constantly getting up on it. After years of hiding the blemishes with throws and pillows Daniel from Fibrenew totally changed that. Courteous and professional the entire time Daniel took the time to answer any questions or concerns I had and explained the process as he went. Fair price and excellent result. Thanks again Daniel.
Ben, Holmes, PA

Daniel did a fantastic job fixing a hole and near-holes on the cushion of my couch. I've had the couch for over 15 years and it cost more money than I care to recall. The leather is very soft and marks easily so Daniel really had to put in extra work to make the repair look good. I am very pleased with how it turned out.
Kate Field

From: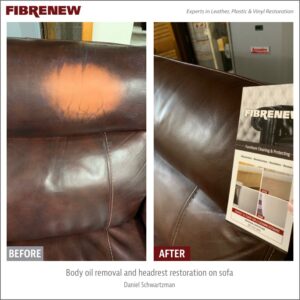 Danial did our headrest over and what a great job! Very professional and a very nice man. I would recommend his company to anyone who needs any type of furniture repair.
Russ Palmore, Aston PA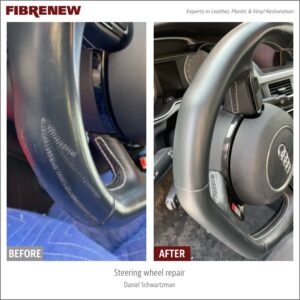 Heard about Fibrenew and Dan over social media a while back. Last week I completely destroyed the leather steering wheel in my Audi by rubbing up against it with a broken button on my jacket. I was so upset over it, until I remembered hearing about Dan @ Fibrenew and instantly thought to call him. He was prompt at getting back to me and easily scheduled a day to come out and service my car. He was on time and extremely courteous. He fixed the scratches and tears on my steering wheel beautifully. I was blown away with how great it looks. I never thought it could be fixed better than new, but he did it. So happy I thought to call him and will definitely refer him to all my fiends and family in need of similar repairs. Thanks again!!
Seth Lamb, Philadelphia, PA

Daniel is friendly and professional and he does great work I highly recommend for leather repair
frank rahill

From:

I hired Daniel to repair/refurbish visible spots on two different leather couches and a leather chair that I own.
His does excellent work! He is very detailed and skilled at what he does.
I would highly recommend him for any leather work that you need.
Desiree, Wynnewood pa

Daniel was prompt, professional and made the interior of my car look brand new again. So glad we made the call and would use Daniel and Fibernew again for any leather repairs that we need. Thank you Daniel for helping and explaining the process your expertise was amazing.
James Rosini

Daniel does great work and trustworthy! Thank you very much!
Myrna Miranda

Affordable, reliable and great results! Thanks Daniel!!!
Anne-Ashley Field

I highly recommend Fibrenew. I googled this company and was lead to Daniel. He came out to my business pretty quickly. He let himself in and made all repairs without me being at the location. He was efficient and trustworthy. He did a beautiful job repairing 6 tiny cuts in my brand new salon styling chairs. They look perfect. You could never find where the damage had been. The price was really good also. I will recommend Daniel to anyone that need this service.
Thank you Daniel!
Valerie Vicario, Aston Pa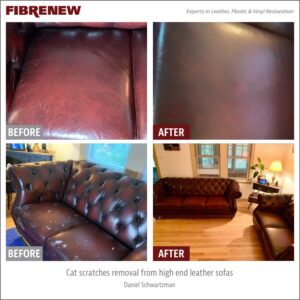 I am very pleased with the leather repair Daniel did on my sofa and love seat from cat scratches. He is a hard worker with much attention to detail and I would highly recommend him. Thank you Daniel, it was a pleasure to meet you, you exceeded my expectations!
Jo Anne, Media. Pa