It's all about seeing a smile on our customer's face after each job is completed!
Below is a small sample of what some of our clients have shared about their experience with Fibrenew
(spelling and grammar mistakes and all 🙂 )
Have your own review to submit?
Tell us on

or
let us know here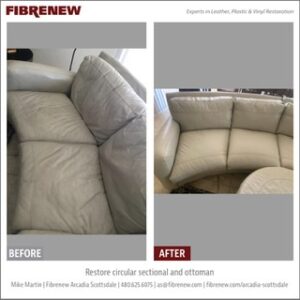 Getting this work done on my furniture was a godsend. The financial asset is just a tiny piece. I've had my furniture for over the past 11 years and get to keep all the memories and comfort. Awesome! I recommend this approach first before spending money on replacements. Thank you!
Darrell Ellis, Fibrenew Arcadia-Scottsdale, Scottsdale
I hired Fibrenew twice now to repair leather couches that I was unsure could even be fixed for stains. Both times Mike did an amazing job. He corrected color, made the couches look terrific, and you can't see stains anymore.
I would highly recommend them. Very professional.
Jennifer Weisman
From:

We bought a high quality leather couch and "love" seat from Creative Leather. We telephoned Creative Leather requesting some warranty work on the couches, but the warranty of seven years had expired. They recommended Fibrenew company. Mike came out, inspected, and observed the couches. The couches had become stained somewhat from sudsy water splashing on it. Also the protective cover on the leather was wearing off literally.
We received a reasonable quote from Mike to efficiently clean, wash , and match the color of the couches. We watched as Mike applied his expertise as we watched a transformation of stained couches to ones that looked brand new ( see pictures before & after). Mike and his assistant wore masks; were professional, courteous, and efficient.
The communication before, during, and after the job. Highly recommend Fibrenew .
Geoffrey Hatch
From:

My wife and I honestly didn't know what to expect. Mike came out and evaluated the work, that needed to be done to the dash and driver's leather seat. Mike was very informative and advised that he could complete the work to our satisfaction, but that it will never be perfect. After receiving our reasonable quote, we decided to proceed with the work. The repair was done at our home and my wife was able to watch the transformation. Needless to say we are very satisfied with the results and highly recommend them to anyone. My wife was dubious and thought the photos were touched up, we can state the pictures are true results, based on our experience.
Joseph Conley
From:

I reached out to fiber renew as I was looking for a leather alteration shop to work on a leather jacket for me. Though the gentleman that answered does not do tailor work, he quickly referred me to another shop and even followed up with a text with another suggestion. It's small business owners like this that really solidify why we all need to shop small. Thank you for the networking and suggestions and happy holidays.
Edward Hiralez
From:

I love my Porsche.
She's my Pride and Joy!
......but I had a "spot"....as in stain on my driver's side headrest.
I couldn't sleep......couldn't eat.......nightmares about....yep...my "stain"....

Soooo......I called Mike Martin and Jean.
We made an appointment, Mike was on time, he looked my issue over, gave me the skinny and....
MAGIC!!....my stain is gone!
I sleep, I'm hungry and, seriously, VERY PLEASED with work done superbly well by an honest craftsman-Mike Martin.
Five Stars *****
Thank you,
Loring Olk

Loring Olk, Phoenix

Mike did an amazing job on both my Copenhagen leather sofa as well as my black Italian leather sofa. He did a complete arm panel repair on the black sofa and matched the leather perfectly. On my Copenhagen sofa cushion repair and dye job to the exact color has made it look like it did when I had it delivered brand new in 2008. Friendly honest and dependable on time and delivery. Thanks again Mike I'll be sure to recommend u to others!

Benjamin, Phoenix

I just had the pleasure of working with Mike and Jean of Fibrenew Scottsdale. Thanks to my slobbering Boxer, the interior of my minivan needed special cleaning that a regular detailing couldn't accomplish. After arranging my appointment with Jean, Mike showed up on time at my house to do the cleaning. Mike did a fantastic job getting the stubborn stains out. He was extremely personable and explained everything that he did. Thanks to Jean and Mike for a wonderful experience throughout the process. I give them my highest recommendation.

Geoffrey Denempont, Scottsdale, AZ 85257

We contacted Fibrenew to repair two high end leather Thomasville chairs that had wear on both arms, stains from coffee cups and a repair gone wrong..... I submitted pictures to the Fibrenew site and was promptly provided an estimate and time to schedule the repair. Mike came to the house, took time to review and did an absolutely wonderful job. He and his wife were also a pleasure to deal with. I even sent a leather handbag with him for repair. The chairs look brand new. He custom matched the color and worked efficiently and cleanly in our home to get it done. I also asked him to wear a mask and he kindly accommodated. Would recommend highly. Posted some before and after.
Christine Mann
From:

Thank you Mike for bringing our Thomasville Leather Chairs back to life! We really didn't think they could be fixed. Especially after a previous repair somewhere else. It was a pleasure to deal with you and your wife. I appreciated the prompt response to my inquiry, the estimate, quick scheduling and quality job. We also appreciated your attention to detail and are extremely happy with your service. The color matching is spot on and they look like the day we bought them. Have already recommended you to several friends who have seen the before and afters. We are so pleased with the results. Also appreciate you wearing your mask as it is important to us in the current environment. Thanks again to both of you..

Christine Mann, Scottsdale, AZ

I can definitely recommend this company. Mike refinished a cushion on my leather couch. Matches perfectly. Very nice guy, professional and punctual.
Bonnie N.
From:

So glad to find Mike. He did an unbelievable job resurfacing one cushion on my leather couch. Matches perfectly. Nice guy, professional and punctual. Would definitely recommend him.

Bonnie, Scottsdale, AZ

I had a high end driving simulator seat that was in need of repairs. The actual seating area was beyond patching. Mike came to our office, provided me with an estimate for the replacement of the cracked seating area, and accommodated our timing constraints for the repair. His company did an awesome job of matching the existing vinyl on the seat back, handled the removal and re-installation of the seat on time and at a very competitive price. I will not hesitate to use his services again, and highly recommend him to anyone with a need for the services he provides.
Rich Wojtczak
From:

Wow! Mike took a very tired looking leather chair that we loved and turned it into a showstopper! He re dyed the chair, changed the color and it's looks better than new. Thank you so much.
Barbara, Scottsdale, Az