Owners Steve & Diane Geddes have been married for 12 years. Steve is originally from the East Coast of Canada, and Diane the beautiful British Columbia. The pair moved to Kelowna in the summer of 2019. Diane was ready to come home and Steve and the family couldn\'t have been more excited to support her.
The family  wanted to become a part of the community and make Kelowna feel like home as soon as they arrived. With 25 years of furniture installation, sales and finance experience the pair new that joining the Fibrenew family was an obvious next step. The opportunity to bring the same values the Franchise believes into the community with their personal touch and actual family beside them was very exciting.
Steve has grown the business quickly adding technicians and support.  As of Jan 2021 they have moved to a larger shop to support full upholstery services as well as furniture repair and warranty work.
The team is not only excited to get to work alongside each other every day but to be able to get out in the community and meet the people and businesses that make it run. They truly look forward to meeting each and every one of you.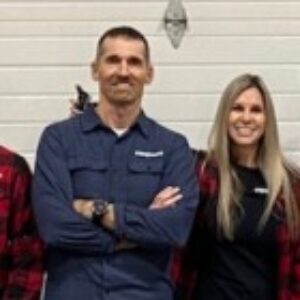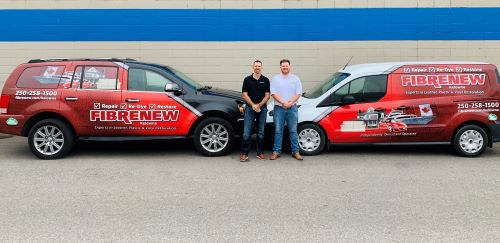 SAVING TIME, MONEY & MOTHER NATURE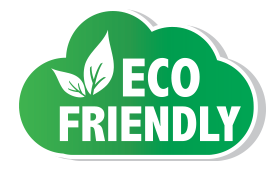 Our restoration services save our customers both time and money by offering an alternative to replacing their damaged couches and chairs, car and marine components, commercial furniture and more. Our on-site services also make it more convenient and faster in getting their items back into great looking and working shape again. As an added benefit, we help prevent thousands of items from ending up in landfills each year which helps preserve Mother Nature and reduce our carbon footprint.
TRUSTED PROFESSIONALS SINCE 1987
Fibrenew specializes in the repair, restoration, and renewal of leather, plastic, vinyl, fabric, and upholstery. We manufacture a highly-specialized proprietary product line and have pioneered the repair techniques and exclusive color matching technology that we use every day to help our clients. Whether it's damaged leather furniture, car interior components, restaurant or medical vinyl, boat or plane interiors or vinyl siding and plastic window frames, we're here to help!
Fibrenew Kelowna is proud to provide mobile service for leather repair, plastic, vinyl, fabric and upholstery restoration in and around the following areas:
WE SERVICE THESE CITIES & TOWNS (AND SURROUNDING AREAS)
Armstrong, BC
Enderby, BC
Falkland, BC

Kelowna, BC
Lumby, BC
Vernon, BC

Winfield, BC



WE SERVICE THESE ZIP / POST CODES (AND SURROUNDING AREAS)
V0E1B0
V0E1B1
V0E1B2
V0E1B3
V0E1B4
V0E1B5
V0E1B6
V0E1B8
V0E1V0
V0E1V1
V0E1V5
V0E2G0
V0E2G1
V0E2G4
V0E2G7
V1B1A1
V1B1A5
V1B1A6
V1B1A9
V1B1B1
V1B1C4
V1B1E8
V1B1K9
V1B1L5
V1B1M3
V1B1M9
V1B1N7
V1B1W2
V1B2C7
V1B2H4
V1B2K9
V1B2M5
V1B2M6
V1B2W8
V1B2W9
V1B2X3
V1B2Y8
V1B3A8
V1B3B3
V1B3C6
V1B3C7
V1B3H5
V1B3J2
V1B3J8
V1B3K3
V1B3K4
V1B3L3
V1B3L7
V1B3M1
V1B3M6
V1B3R5
V1B3S9
V1B3W4
V1H1A1
V1H1A5
V1H1B5
V1H1G1
V1H1G2
V1H1G4
V1H1G5
V1H1L9
V1H1N2
V1H1R8
V1H1T4
V1H1Z1
V1H2A1
V1H2A5
V1P1A1
V1P1A2
V1P1A5
V1P1A6
V1P1C2
V1P1C6
V1P1C8
V1P1G7
V1P1H3
V1P1H7
V1P1K3
V1P1P3
V1T1E5
V1T1G7
V1T1G9
V1T1H5
V1T1J4
V1T1K5
V1T1K8
V1T1L7
V1T1M1
V1T1M6
V1T1N1
V1T1P6
V1T1R2
V1T1S5
V1T1S7
V1T1Y4
V1T1Y6
V1T2E6
V1T2H9
V1T2J6
V1T2N2
V1T2R5
V1T2S3
V1T2S7
V1T2W1
V1T2W6
V1T3A6
V1T3B2
V1T3B7
V1T3C9
V1T3E9
V1T3G2
V1T3J2
V1T3M9
V1T6K7
V1T6P1
V1T6P4
V1T8J4
V1V1A1
V1V1A4
V1V1A6
V1V1A7
V1V1H7
V1V1J5
V1V1M6
V1V1N2
V1V1N9
V1V1P1
V1V1P2
V1V1P4
V1V1P8
V1V1P9
V1V1R2
V1V1R4
V1V1R9
V1V1S1
V1V1S9
V1V1V7
V1V1Y3
V1V2B4
V1V2C5
V1V2Y3
V1W1A1
V1W1A2
V1W1A6
V1W1A8
V1W1B2
V1W1C7
V1W1C8
V1W1E4
V1W1H6
V1W1J1
V1W1K6
V1W1V3
V1W1X3
V1W2C6
V1W2C7
V1W2C8
V1W2E1
V1W2E5
V1W2R1
V1W2S3
V1W2S5
V1W2S9
V1W2X5
V1W2Z9
V1W3A1
V1W3A4
V1W3A7
V1W3B9
V1W3C8
V1W3C9
V1W3E1
V1W3E2
V1W3J2
V1W3J4
V1W3P8
V1W3R2
V1W3R3
V1W3T1
V1W3Y2
V1W3Y7
V1W3Y9
V1W3Z6
V1W4A7
V1W4H6
V1W4K8
V1W4M3
V1W4S8
V1X1A1
V1X1A3
V1X1A7
V1X1A8
V1X1B2
V1X1B3
V1X1G5
V1X1H7
V1X1H8
V1X1J4
V1X1K8
V1X1L5
V1X1L7
V1X1M1
V1X1M7
V1X1P4
V1X1P6
V1X1R9
V1X1X2
V1X1Y1
V1X1Y4
V1X1Z1
V1X1Z5
V1X2A2
V1X2A8
V1X2C8
V1X2C9
V1X2E2
V1X2H5
V1X2H7
V1X2J6
V1X2K6
V1X2L4
V1X2L6
V1X2P3
V1X2P5
V1X3B6
V1X4H3
V1X4T4
V1X6J9
V1X6K1
V1Y0A3
V1Y0B1
V1Y0B2
V1Y0B3
V1Y0B4
V1Y0B9
V1Y0C1
V1Y0C6
V1Y0C8
V1Y0C9
V1Y0E2
V1Y1E7
V1Y1R2
V1Y1R8
V1Y1R9
V1Y2K8
V1Y2L6
V1Y2M8
V1Y2N7
V1Y2P3
V1Y2W6
V1Y2X5
V1Y2Y2
V1Y2Y4
V1Y2Z9
V1Y3E7
V1Y3G6
V1Y3G8
V1Y3H3
V1Y3J2
V1Y3R9
V1Y3T7
V1Y3V9
V1Y3Z5
V1Y3Z7
V1Y4A9
V1Y4H4
V1Y4K9
V4V1A1
V4V1E1
V4V1E2
V4V1E4
V4V1E5
V4V1E7
V4V1G1
V4V1G4
V4V1G5
V4V1G6
V4V1S3
V4V1T5
V4V1Z5
V4V2A3