It's all about seeing a smile on our customer's face after each job is completed!
Below is a small sample of what some of our clients have shared about their experience with Fibrenew
(spelling and grammar mistakes and all 🙂 )
Have your own review to submit?
Tell us on

or
let us know here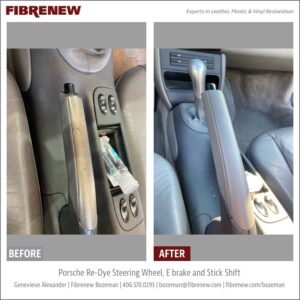 I had my e-brake handle, steering wheel, and shifter re-dyed. It looks great!! In addition to re-dying the leather, they filled some areas where there were cracks and fixed a couple tears. It looks new...and it saved me about $1000 vs having these items replaced.
Thanks Genevieve!
David Penhallegon, BOZEMAN
Genevieve is the best!!! Bozeman's most awesome for literally any fixer-upper job you can't figure out on your own. Vote for Genevieve.
Liz Vonderhaar
From:

We purchased a lightly used RV last summer and it was in excellent condition except for some wear and tear on the upholstery of the front passenger seat. Big Sky RV recommended Fibrenew to make the repairs and that's when we met Genevieve. She is a master at her craft. Not only did she fix the tears, she made the seat look like brand new. She is meticulous, takes great pride in her work and offers top notch customer service. If you have any type of upholstery repair work, look no further. Genevieve will far exceed your expectations.
Marina Calabrese
From:

Genevieve's work is truly an art form. She put all of herself, down to the very last detail in the refreshing of my dining room furniture and saved me the cost of new furniture. I can't say enough about her honesty and integrity. She was truly a breath of fresh air.
Dorothy Mann, Belgrade, MT 59714
Genevieve renewed the leather upholstery in my Caddy convertible. I am very pleased it looks brand new. She worked very hard and was not letting the least detail slip by.
Jim Kraenzel
From:

Excellent service, speed, accuracy, and very personable; moreover, I enjoyed both their personalized touch to my vehicle. I highly recommend them in the future.
Noah Jacobs
From:

The Bozeman Fibrenew team was incredibly nice and professional. We had quite a few punctures and scratches on our leather couch and bar stool from our cat, and by the time they left everything looked as good as new. They are honestly magicians!
Sarah Schoening
From:

Thank you so much, Genevieve! Our couch repair looks amazing. We had quite a few scratches and tears and after you fixed it, I feel like it looks brand new again.

I will recommend your services to all of my friends here in Bozeman!





Charla Parks Shively, Bozeman