New Management For Fibrenew East Kootenays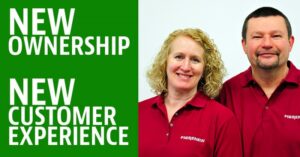 Many of us dream about running a company, setting our own schedule, and running a business aligned with our key values. Yet not everyone is willing to put in the necessary effort to make that vision into a reality. However, Larry and Anita are doing exactly that and recently became the new owner-operators behind Fibrenew's East Kootenays location. The couple previously owned an automotive parts store in Alberta and felt due for a new challenge. They chose to be closer to the mountains, and now they enjoy the best that British Columbia has to offer in terms of outdoor recreation, especially snowmobiling, golfing, and ATVing. For the past year, they've been working at revitalizing the region's mobile restoration and repair service for all leather, plastic, and vinyl. It's working out well, and their hobbies have even helped them connect with new clients who are equally passionate about pursuing all types of outdoor recreation.
Life Before Fibrenew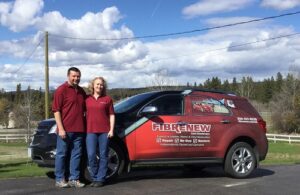 According to the couple, they started seriously considering this specific franchise once they discovered Fibrenew among Franchise Business Review's top 100 franchise opportunities of 2018. Previously living in the Fort McMurray and Camrose area, Larry had specialized in automotive parts and worked in snowmobile and ATV sales. Anita is a former crisis worker with a background in bookkeeping as well–which she happily applies to manage the Fibrenew accounts now. It's been a rewarding transition for Larry who likes to work with his hands and Anita who gets a sense of satisfaction from working with people from all walks of life. They're both very passionate about providing great repair results, "When the people really appreciate what you've done, that's a good feeling", Anita cheerfully explains.

Working as a Team


Having a supportive spouse has been a key success factor for these two. Describing how they came to take over this location, Anita's confidence in Larry's managerial skills is rock solid: "He can make any business successful, he's really good with people." Larry spends much of his time on taking calls, doing repairs, and putting the mobility in mobile repairs. About once a week he visits nearby recreation-loving towns like Fernie, Golden, Creston, and Kimberly, so clients expect to see his van rolling through town on Wednesdays. Some days it's an RV upholstery repair, other days it's re-dyeing dirt bike gear. No matter what, each day is a little bit different. Anita is dedicated to keeping the books and does some of the sewing and upholstery work–even the occasional repair job.
"He can make any business successful, he's really good with people."
–Anita Iler
Wife of Larry Iler and new Franchise Co-owner at Fibrenew East Kootenay location.
Expertise


The Ilers specialize in custom work for RVs, boats, and recreational vehicles and can service anything from car seats to marine docks, to home furniture, to commercial vehicles, and school equipment–they even do plastic welding. Above all, they're pleased to be growing a reputation as one of the most effective repair services in the area and looking forward to a busy season ahead.
Earning Your Trust


As the new folks in town, Larry and Anita know it will take some time to build up trust in the community. They've been working hard to establish themselves and get to know their new neighbors. If you spot them at the local Chamber of Commerce or sponsoring an outdoor event in the area, take a moment to say hello and introduce yourself!
Larry and Anita can be contacted via: eastkootenays@fibrenew.com / Tel/Text: 250.421.8220 or visit their website at: fibrenew.com/ek
Related posts:
Tags:
alcohol based, Benefits of cleaning leather, Benefits of cleaning vinyl, boat, car, clean, cleaning, cleaning products, clean leather, commercial, couch, couch destruction, couch repair, cracked leather, dark spots, DIY, dried out leather, faded leather, Fibrenew, fix, fully-finished leather, hairspray, home re-model, how to clean leather, leather, leather chairs, leather furniture, leather products, leather restoration, leather sofas, leather sources, leather types, markers, motorcycle, oil, oil damage, olive oil, plane, plastic, prevent damage, refurbish, repair, restoration, sagging, sun damage, types of leather, used furniture, used leather, vinyl, water damage,