Come Join Our Franchise!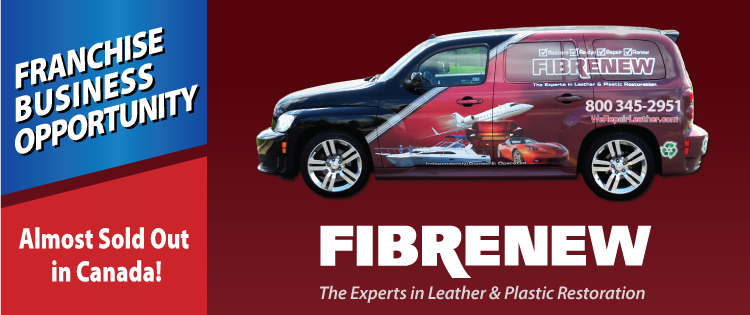 Does this describe you?
Are you ready to be your own boss?
Do you like to work with your hands?
Do you enjoy relationship selling?
Can you distinguish colours adequately? (not color blind)
There are currently 63 Fibrenew franchises across Canada with room for only 14 more. Come join our thriving business! 
Fibrenew is the market leader in the restoration of leather, plastic and vinyl. We are a mobile service that caters to the aviation, automobile, marine, commercial and residential markets. With all these opportunities across so many markets, our company and franchisees have grown and thrived through every rise and fall of the economy. That really speaks to the fact that there is always a need for our services.
The products and techniques to restore leather, plastic and vinyl:

Available franchise territories in Canada:
Kamloops, BC
Fort McMurray, AB
Grande Prairie, AB
Prince Albert, SK
Sudbury/North Bay, ON
Owen Sound, ON
Windsor, ON
Chatham, ON
Sarnia, ON
Guelph/Cambridge, ON
Toronto East, ON
Richmond Hill, ON
Scarborough, ON
Drummondville, QC
Meet some current franchisees:

Fibrenew, a recognized and respected global brand:
Since 1987, Fibrenew has been the industry leader with the development of exceptional leather, plastic and vinyl repair products and restoration techniques. The combined knowledge and experience of our 225+ franchisees around the world is unparalleled. We have expanded our global presence to include franchise units in the United States, Canada, Mexico, New Zealand and Australia.
When you are awarded a Fibrenew franchise, you will receive:
An exclusive protected territory
Use of Trade name and Trademark
Access to proprietary products and methods and manuals
Comprehensive training program
Complete inventory and equipment
Stationery and marketing package
Personal website and online marketing support
Ongoing Technical Support via phone and internet
Access to our Technical Library
Continuous education, support via seminars, workshops and conferences
A Fibrenew franchise offers:
Flat-fee franchise model
Low overhead, home-based mobile business
Cutting edge research & development
Exclusive service and product line
Flexible lifestyle and work schedule – you set your own hours
Being part of winning team with a proven business model
Request Fibrenew franchise information:
To receive more information, complete and send the form below. A Fibrenew representative will contact you within two business days to discuss the opportunity of owning and operating a Fibrenew franchise. We look forward to hearing from you!

 This is a secure form.
[contact-form-7 id="85″ title="Request Info"]
Fibrenew respects your privacy. We do not sell or distribute your personal information.
Related posts:
Tags:
alcohol based, Benefits of cleaning leather, Benefits of cleaning vinyl, boat, car, clean, cleaning, cleaning products, clean leather, commercial, couch, couch destruction, couch repair, cracked leather, dark spots, DIY, dried out leather, faded leather, Fibrenew, fix, fully-finished leather, hairspray, home re-model, how to clean leather, leather, leather chairs, leather furniture, leather products, leather restoration, leather sofas, leather sources, leather types, markers, motorcycle, oil, oil damage, olive oil, plane, plastic, prevent damage, refurbish, repair, restoration, sagging, sun damage, types of leather, used furniture, used leather, vinyl, water damage,