Fibrenew Upstate
[email protected]
Tel:
864.859.8447
Rick and Lynn Halpin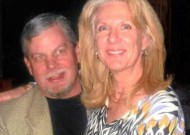 Oil, Sweat & Leather
Remember back in science class when you learned that the skin is the body's largest organ?  Well, unless you were a science major, you probably haven't given it much thought since, nor the by-products produced by this large organ - namely oil and sweat.  And believe me, both of these can wreak havoc on your leather furniture.  The skin has thousands of tiny hair follicles, each of which has a sebaceous gland that produces an oily substance called sebum.  Men produce more sebum (oil) on their skin than women, which also in turn, causes them to sweat more.  It's purely hormonal and not a sign of cleanliness, or the lack thereof.  This is a point we try and make clear when we first meet with a client and are immediately able to determine which is the 'Papa Bear' chair.  Also, it doesn't seem to matter whether the owner has a full head of hair or is completely bald.  In time, oil buildup, along with sweat, will cause the leather headrest on chairs and sofas to lose their protective top coat and color.  Eventually the leather may deteriorate so badly as to cause a  hole in the headrest.  If caught in the early stages, Fibrenew Upstate can clean and extract the body oils and sweat from the leather.  This task is better accomplished when we are able to access the back side of the leather.  Following a successful 'oil clean up', we  re-dye and top coat the headrest to match the existing leather. In extreme circumstances, a new leather headrest replacement panel may be sewn in, followed by a custom re-dye process.  It would, after all, be a shame to discard a big, comfy recliner or sofa that is in otherwise, overall good condition.  So, don't be embarrassed, we know you're not a 'Greaser'!  Just give Fibrenew Upstate a call and let us bring your prized possession back to life!