Since 1987, we have worked with some of the world's biggest brands in the automotive, aviation, medical, furniture retail, insurance, disaster recovery and warranty industries. As we fulfill services for large companies, we're proud to service local customers in their homes and businesses as well.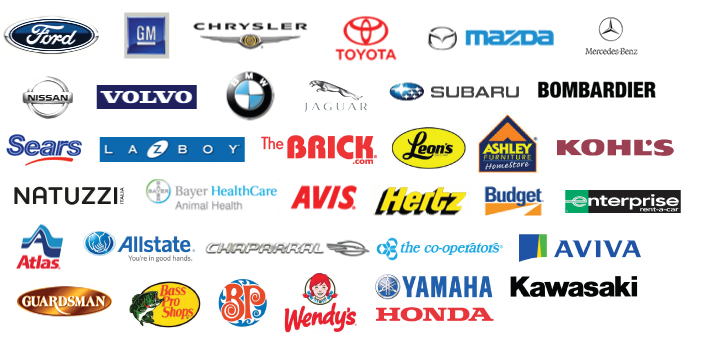 * the above listed companies do not explicitly endorse Fibrenew's service. Fibrenew franchisees have at one time performed work for these companies.
If you have your own comment to submit, please use this form. We thank you in advance for your feedback and look forward to the opportunity of serving you again.
Comments from some of our valued customers
We recently purchase an older model Mercedes SLK350. There was some discolouration of the seat and gear shift. We called Fibrenew in the hopes that it could be repaired and look better. We never expected perfect! We are so very thrilled by the end result. The car interior looks like new! My husband even took a flash light to it to try to find where it had been repaired and could not find anything.
Our technician was very personable, he answered all my questions and was very honest and straightforward. Even better, he was more than reasonable in his pricing. We are very happy we made that call and would highly recommend Fibrenew.


Ann Ramessar, Calgary, AB

Fibrenew did a WONDERFUL job for us. Our badly faded sofa & love seat look like they are brand new again. They responded quickly to my inquiry, made four round trips to our rural location and did a great job. They had the whole process completed in under three weeks - and for the price quoted.
We are very pleased & highly recommend Fibrenew and their work.

Sue N, Zanesfield OH

We just had our leather furniture restored by Fibrenew. I can't say enough about how pleased we were. It saved us thousands of dollars over replacing. The set we had done cost $6000 twenty yrs. ago. Today, it looks like a new set of furniture. Fibrenew's technician's were so nice and professional. I will definitely recommend Fibrenew. Thank you!

Delia & Jay Jones, Memphis , TN

We had Fibrenew in our home to repair our couch and recliner that was deemed irreparable by another organization. It was severely scratched by a kitten. Not only did he repair it ... It looks like new! Amazing work. He took the time to ensure perfection and it shows (or rather doesn't show!!). Reasonably priced and quality workmanship ... Highly recommended.

Katrina McDonough, Kingston, ON

I recently had the a problem with a very expensive, unique and dearly valued chair that I contacted Fibrenew about. This chair had bad mildew damage which was a result of improper packing, shipping and storage methods by a well known overseas company.

When I called Fibrenew, they responded quickly and was very professional. He was able to diagnose the problem and explain the methods involved in the repair process. As this was a case involving a third party insurance company, the Technician was very helpful in the claims process. He sent a letter to the insurance company on our behalf which helped to expedite the claim and reduced the usual anxiety associated with insurance claims.

Through his efforts, he was able to able to repair the chair and we are delighted with the results. Additionally, he was kind enough to clean the chrome base which had some rust resulting from the storage issues.

We are very pleased with the results from Fibrenew. When/if the occasion arises again, Fibrenew will be our first contact.

J. Teng, Alhambra, CA

Fibrenew made our old leather lazy boy chairs look like brand new. Thank you very much. I highly recommend their work.

Cathrin F, Invercargill, New Zealand

I was very impressed with the performance, customer service, urgency, and professionalism shown by Fibrenew.

I had a problem with a customer who had a stain on his car seat and the Technician drove to the customers home and corrected the problem, and even did a return trip for a little extra touchup that kept my customer very happy. Based on my experience, I will always use Fibrenew in the future when needed. Thank you!

Thomas L, New York, NY

Dynamic Flight Services Inc. is a Calgary, Alberta based operator of light aircraft for business charter. To preserve our image, Dynamic places great importance on the appearance of our aircraft, both inside and out. As such, our customers have come to expect flawless aircraft.

This winter, through the wear and tear of normal operation, our Piper Navajo Chieftain began to develop cracking in the interior plastic. If left alone, this cracking would have spread along the walls, causing the aircraft to appear as it if were in poor shape as well as leading expensive interior work down the road.

Dynamic called on Fibrenew to resolve the problem. The Fibrenew technician repaired the plastic panels so well that we were unable to see any indication that the panels had ever cracked! Needless to say, we were very pleased with the work that was performed.

We strongly recommend Fibrenew for work such as we had done to our Piper Navajo Chieftain. We will indeed be using them again in the future!

Matthew Krause, Calgary, AB

I just had my twenty-year old leather couch repaired and refurbished by Fibrenew. I am so pleased with the job the Technician did, it was very timely and professional. I expect that the couch will last for another 20 years; it looks brand new! Thanks to the Technician and his Assistant, they did an excellent job!

Kathy Hunt, Eau Claire, WI

I am so happy with the repair Fibrenew did for me. When the chair was returned to me, I was so amazed and thrilled with the results! I could not believe my eyes!! I thought the chair was beyond repair. When the rest of my family saw it, they too were as impressed as I was. I have been showing friends and family the before and after pictures and everyone is amazed. I am very happy with the work Fibrenew did for me at a very reasonable price. Thank you so much for saving my furniture!

Michele Rossi, Sacramento, CA

I highly recommend Fibrenew for any leather repair you may need. Their technician was friendly, professional, and knowledgeable. He arrived at the scheduled appointment time and repaired a small tear in the arm of my leather chair. The result was phenomenal. I am hard pressed to see where the repair was made. The price was extremely fair. I will never discard damaged leather furniture. I will call Fibrenew to repair and restore. Thank you again for a fabulous job! HIGHLY RECOMMENDED!

E.E., Columbus, OH

Couldn't believe it! I had left a remote control on my leather couch and the battery acid leaked out creating a very large hole in the cushion. Fibrenew repaired the cushion as to where I couldn't even see where the hole had been. Not only that, I had had the cushion repaired by someone else first. It was a horrible job and unacceptable. The person actually sewed a patch on top of the leather. Fibrenew was able to take off the patch fill in all of the stitching holes and make it look brand new. I was really amazed. You saved me from buying a new couch!

Lisa H., Birmingham, MI

The Fibrenew Technician was amazing! I recently purchased a used car with deep scratches, cuts and rips to the plastic interior and liner of the driver's side door panel and glove box.
The Technician contacted me immediately, gave me a quote based on a few pictures and arrived on time and prepared. It seems like it took him only hours to fix years and years of damage caused by what we believe to be large dogs. My car looks brand new and I'm beyond happy that I chose him to provide this service.
I had reservations due to me having no point of reference when it came to upholstery repair. But the technician educated me and made me a confident consumer in the end. I recommend him to anyone looking for upholstery repair and I'm beyond happy that my 100K milage, used car - looks brand new. Thank you, thank you, thank you!


Nacole R, Orlando, FL

Fibrenew came by my home and picked up my mother's old leather chair. The chair was a surprise gift for my sister, and I was looking to have it look as close as new as I could get it. My sister absolutely loved the restoration that you did on the chair. In her words: "this is the best birthday gift ever!".

So with that I just want to take a moment and thank you to for all that you have done!

Kevin Smith, Sacramento, CA

We would like to introduce you to the services of Fibrenew whom we have used to repair the interior of our cars since April 1999.

Fibrenew specializes in the repair of leather, vinyl, plastic and velour fabrics. They used odor free, fast bonding latex dyes which dry in minutes and their leather finishing techniques are outstanding. Their superior service adds value for our vehicles, resulting in higher retained retail prices.

I have no hesitation in recommending this professional superior service to all Motor Vehicle Franchise Holders.

Coombes Johnston European Ltd.
BMW, Rover, Land Rover
I just had stains and scuffs removed and the finish restored to a leather upholstered bed and a couch in my family room. The Technician and his assistant did an unbelievably great job. The restored areas look like new. The work far exceeded my expectations!

Leonard D., Glastonbury, CT

Fibrenew provided excellent and timely service restoring a badly worn leather couch our company has had for over 20 years. The leather restoration was so successful that the couch now looks almost new.

Based on our experience I would not hesitate to call upon their services again.

Guy C. Whitman, Victoria, BC

I want to thank you for the excellent job that you did on my precious BMW. As you know, I want to keep it for a long time. While the body and mechanical portions are in excellent condition, the two front seats really needed some help.

You made the two front seats look like new!! My car looks brand new. Even the BMW dealer in Richmond was impressed.

Thank you for a wonderful job!

Robert J. Dandeneau, Boca Raton, FL

I am so happy with the repair Fibrenew did for me. When the technicians  returned the chair to me, I was so amazed and thrilled with the results! I could not believe my eyes!! I thought the chair was beyond repair. When the rest of my family saw it, they too were as impressed as I was. I have been showing friends and family the before and after pictures and everyone is amazed. I am very happy with the work Fibrenew did for me at a very reasonable price. Thank you so much for saving my furniture!

Michele Rossi, Sacramento, CA

Fibrenew is wonderful. I never thought my couch could be repaired, and to have it repaired to look like new was amazing. The Technician was very professional, upfront and honest. She gave me all the information I needed, and set my expectations on what was possible. From what it was to where it is, has made my day. Thanks for making the couch new again.

Tim, Carter Lake, IA

We have a very large teal green leather sectional that is perfect for our room. After years of wear the leather has worn to the point where were felt we had to get a new sectional. After shopping everywhere, not only could we not find anything comparable, but it was hugely expensive.

I heard you could renew leather so I went on line to research. I found Fibrenew and thought I'd give it a try. Boy was I amazed at the wonderful job Fibrenew did! Not only does our leather sectional look brand new, but the color is perfect. Fibrenew was wonderful to work with, the price was reasonable and they even followed up with a referral for other services I mentioned I needed.

I HIGHLY recommend Fibrenew! I will definitely tell all my friends about them and use their services again!

Diane Z., Omaha, NE

The Technician did a miraculous job with the leather seats in my Volvo convertible. He was very meticulous and professional. He came to my home and finished all four seats in an afternoon; I was so impressed!

Tori Chester, Colorado Springs, CO

The Fibrenew Technician restored the leather on the drivers seat of my car and unless one knew, you can not tell his finished work from the rest of the leather interior. I'm nothing less than blown away and extremely pleased with the work. I would recommend Fibrenew to any one who needs some car or furniture leather repairs. Just an incredibly superb experience!

Jon P, Little Rock, IL

I found Fibrenew after my dogs ate one of the cushions on my leather couch.  I didn't realize leather could be repaired, but Fibrenew was able to match the sheen, texture and color perfectly. Twice we have had our leather eaten and the damage repaired.  Courteous, prompt and professional. Thank you!

Christie S, Colorado Springs, CO

The Technician we had was amazing; he was friendly and professional. He repaired our leather couch and it looks brand new! Family who saw it afterwards could not believe the incredible repair work. The Technician took the time to explain the repair work required, our choices and the steps to completing the work. He also went through caring for the repaired area afterwards. I would definitely use Fibrenew again and highly recommend them to anyone looking to have leather repaired. Thank you so much!

Lori, Oakville, ON

A ballpoint pen left a streak across the leather seat in my car. In an attempt to remove the marks, I also removed the surface of the leather seat. I contacted Fibrenew and was put in touch with my local Franchise and the Technician came out to my house and repaired the damage. It looks like new! There is absolutely no indication of any marks and the color is perfect!! I am thoroughly pleased with the skill, personal touch, convenience and price. An incredible job was done. If anything else happens to any leather item I own, they will be the first ones I will contact.


Susan H, Vancouver, WA

When we contacted Fibrenew, we were doubtful that the holes and scrapes in our white leather Danish sofa and lounge chair could be repaired. The holes were created by our rabbit that we allowed to run free in our house; the scrapes were created by our dogs who enjoyed sitting and sleeping on the couch and chair. We assumed our furniture would need to be completely reupholstered. When Technician returned the sofa and chair a week later, we were absolutely amazed. The holes and scrapes had disappeared like magic without reupholstering. They looked brand new. We will have no hesitation recommending Fibrenew.

Roger and Ada Fidler, Columbia, MO

We brought in Fibrenew to restore our leather furniture after years of neglect and the adoption of two puppies… 🙂 The service was quick and convenient and the end result was fantastic!! The furniture looks like new!! Now if we can only keep the puppies off it!! Thank you!!

Carol, Edmonton, AB

My experience with the local franchisee was excellent. He was prompt to respond to my request, knew his product line and when he ran into a snag (material) he called with the problem and a solution. He was professional and certainly did the job he promised. I highly recommend Fibrenew for any job and will definitely use them again. Clearly 5 stars.

Jerry Hilderbrand, Scottsdale, AZ

Great job done by my Fibrenew Technician. He repaired my leather sofa and love seat to a "new" condition! The job was done so professionally there is NO evidence they had been repaired!

I highly recommend Fibrenew and their technicians. KUDOS FOR A JOB WELL DONE!!!!!!!

Leperthia J, Peyton, CO

I just received back my well-worn leather couch, and I'm pleased to say that it looks at least as good as new. Many thanks to the Fibrenew Technician for a fantastic job and great service! I have no hesitation about recommending your service, which saved me at least half the cost of a new couch to replace the old!

A and A Gredell, Des Plaines, IL

Fibrenew contacted me very promptly and was here the next day to repair our leather love seat. He showed up on time and did the job exactly as he had quoted me. I will definitely be using Fibrenew again in the future for any repairs I need.

David Williams, Lowell, MA

Very prompt service and the repair was done to the very high standard that we required.

Wayne, Auckland, New Zealand

I used Fibrenew to repair a leather couch that I thought was ruined with nail polish. I tried using nail polish remover to take the spilled nail polish off but it removed the top layer of dye and made a terrible mess of my couch.

I recommend Fibrenew to repair leather furniture, they did a great job!

Ron Rockey, AB

Fibrenew did a fabulous job restoring the steering wheel on my Honda Prelude! After 11 years, it was quite worn away and ratty. Fibrenew made it look and feel like new!

Tanya Robinson, Cape Canaveral, FL

Just wanted to say thanks for doing such a remarkable job on the seat repair. The care, attention and skill to put it back to new condition again made a huge difference, I can now look into the car and see a beautiful interior like it was meant to be, thanks so much.

J MacDonald, Fraser Valley, BC

I would like to thank the Technician and Fibrenew for their hard work to restore our leather living room furniture. The quality of the work and the commitment to service were second to none. Thank you!

David Nichols, Charlestown, RI

We engaged Fibrenew's services on two very expensive claims. One involved a torn leather sofa valued at $8,000 and the other consisted of a torn leather sofa and love seat with a value of $9,000. Invisible mending was out of the question and therefore, we would have to normally estimated reupholstering costs exceeding $5,000.

Fibrenew repaired all three items for a fraction of the cost of replacement or reupholstery and both customers called our office to express their complete satisfaction with the work performed: in fact, one customer then hired Fibrenew to restore the leather in their personal vehicle.

The next time you encounter this type of claim, Fibrenew gives you the alternative to reupholstering and saves greatly on replacement cost.

Dale Ittas, Atlas Van Lines

I have used Fibrenew to fix my recliners and my sofa. You won't go wrong with their services. They explain and point out everything that is broken and needs repair, they use quality materials, and their services are very fairly priced.

Highly recommended as far as I'm concerned.

Jen P., Hudson, NH

Fibrenew did a WONDERFUL job for us. Our badly faded sofa & love seat look brand new now. They responded quickly to my inquiry, made a trip to our rural location, did a great job, & had the whole process completed quickly - for the stated price quote.

We are very pleased & highly recommend him and his work.

Sue N., Zanesfield OH

I have been looking for over a year to find someone who could replace torn and reinforce worn leather in my car seats. I have a low-mileage 2004 Lexus GX470. Fibrenew did a very nice job with the repairs. Solid craftsmanship and good service.

John Kim, Plano, TX

I just bought a 1996 Classic Jaguar XJS Convertible, the drivers seat leather was badly cracked and looked dirty. The Fibrenew Technician came out and refinished the seat and console lid and made them look like NEW, at a very affordable price. I am very impressed and will share his information with my friends into collector cars. Very Impressive, thanks so much.

Todd Stetson, Columbia, SC

I want to thank Fibrenew! My wife and I recently moved and our leather sofa was damaged by the movers. The movers had someone come in to fix the sofa and the repair lasted all of 2 days before it ended up looking just as bad as before it was "repaired". The guy claimed he had 25 years of experience in fixing leather sofas. Boy was that a joke. My wife called Fibrenew and they came out, looked at the sofa and stated they could repair it.
They had asked me how the first person tried to fix it and after I explained what I witnessed and they stated this was all wrong, the previous fix had been a fix used for vinyl, not leather. Fibrenew was able to peel off what was left of the first repair and they carefully and professionally repaired our expensive leather sofa. These guys were great and did a beautiful the job. It has been over 4 weeks and the sofa still looks great. I would highly recommend these guys to anyone, they do great work and are very professional. Thanks again!

David Fine, Charlotte, NC

Fibrenew specializes in repairing and re-dyeing leather, plastic & vinyl. They have been repairing and re-dyeing the leather interiors of our Jaguar cars in Calgary, Canada since 1987.

Any repair required to the interior of our cars, be it scuff, a rip, a crack or tear is referred to Fibrenew. They use odor free, fast bonding latex dyes which dry in minutes. The Fibrenew technicians are trustworthy professionals, who provide my company with superior service. Their leather re-dyeing techniques are outstanding.

Not only do I refer warranty work to Fibrenew...I also use their service to rejuvenate the interiors of vehicles I bring in on trade and sell as used. Their service adds value to these cars resulting in a higher sale price.

I highly recommend this company and their exemplary service to all Jaguar Dealers.

Des Houston, Calgary, AB
Jaguar of Calgary, Subaru of Calgary
We had three pieces of expensive leather furniture scratched and clawed at by cats.

Both my wife and I were fairly sure we were going to have to either put up with the scratches or pay a huge amount of money to have them re-upholstered. While looking for a company to fix this mess we stumbled upon Fibrenew. We read all the information that they supply on their site and decided to contact them to give us a quote.

Shortly after we contacted our local Fibrenew franchise, we received a message back asking if we could send them some closeup pictures of the damages. We did so and they got back to us once again stating that they could definitely fix it and attached a price quote. We set up a time and date and the Technician was on time and the job completed within the quoted price. He did an excellent job, he was very professional and extremely knowledgeable about his craft. We thank and highly recommend Fibrenew to all needing leather repaired.

Kevin Lennox & Gloria MacCrimmon, Centreville, ON

Just had my Mercedes SLK230 seats redone and I am so impressed with the results, absolutely fantastic job! You would swear they were brand new seats. Thank you so very much for a wonderful job done.

Rob Mitchell, St Catharines, ON

Our customers across America are always thrilled with the leather furniture services of Fibrenew.  Our leather furniture company specializes in high quality
American made leather furniture
.  From our website we ship made to order, leather furniture to homes all across the USA.  On those rare occasions when damage happens during delivery or if a customer causes damage after delivery, we now only call upon Fibrenew for help.  We have used many leather repair services but discovered Fibrenew to be far superior to anyone else.  Small job or large, they are professional, quick and make the problem disappear and the customer very happy.  I wanted to thank Fibrenew for their great service and recommend them to anyone who is in need of a leather repair.
Rick Kreiger
Owner

Leather Furniture USA

Palm Beach Florida
Leather Furniture USA
I contacted Fibrenew after virtually destroying the finish on one of the leather rear seats of my car. Within an hour, Fibrenew had it looking like the day it rolled off the showroom floor. I was so impressed with the quality of service and how reasonable the price was.

Russ, Cumming, GA

I just wanted to thank the Technician for his great work recently on a scratched glove box and middle console. I found the scratches to be very annoying and unsightly. I looked at replacing the parts, but Fibrenew has done such a great job the finished result is just like new! It is great to know there is a place that can repair these types of problems. Great having mobile service as well. Thanks very much.

M Findlay, Christchurch, New Zealand

I must give Fibrenew a AAA rating for the magic they worked on my leather couch and chair, transforming it from something that was simply comfortable but not anything you wanted to display to company, into rejuvenated items of furniture worthy of displaying to friends and family. Work performed at my home and within a day my couch and chair were transformed. Worth every penny I paid to Fibrenew.

David Steventon, Carlton Place, ON

I can't believe the amazing repair Fibrenew was able to do on my leather couch. I left a remote control on my leather couch and the batteries leaked acid out creating a very large hole in the cushion. I had someone come out and attempt to repair it but it was a horrible job and unacceptable. The person simply sewed a patch on top of the leather and considered that repaired. The Fibrenew Technician was able to remove the unsightly patch, fill in all of the stitching holes and make it look brand new. I can't even see where the original hole was! I am really amazed. Fibrenew saved me from buying a new couch!

Lisa, Birmingham, MI

Lilly Industries (Australia) Pty Ltd. is a company that has supplied Fabric and Leather Protection Plans in the Australian market since 1994. In this time we have used a variety of companies Australia wide to service our customer problems. From our experience, we have found Fibrenew to be the benchmark for service, cleaning standards and business practices.

We are constantly seeking strong partnerships with our suppliers around Australia and Fibrenew is the company we look to as a strong business model.

Jenny Colbeck, Brisbane, Australia
Lilly Industries (Australia)
Wanted to compliment one of your Technicians. He travelled over an hour to get to us before Christmas. The level of his service and the job he was able to do when others were not was of the highest calibre. This was a warranty call on behalf of Lazeboy and we were so impressed.
Thank you

Martin Ingham, Mulmur, ON

Thank you for the great job you did on my 20 year old boat seat. The color match was great white ,teal ,purple, and pewter all matched great. I would have to tell you the seat has been repaired for you to know it, great job.

Ron Kinnison, St. Charles, MO

Wow, Fibrenew just finished completely restoring all of the seats in our 2006 25 foot Pontoon boat. Fantastic job, they look brand new.

We had purchased the boat used and the previous owner had left the cover off - in this Arizona sun, that is bad! They were badly scorched and discolored. The integrity of the vinyl was still good so the Technician took them to his shop and cleaned them, then dyed to match the original color. They look like new!

We are going to tell our friends about this business. We are a happy couple of boaters.

Stan, Surprise, AZ

I have used Fibrenew to fix the recliners on my couch twice, as well as having them fix another sofa. Having a teenagers who flop down on
the furniture with their friends makes me a repeat customer! You won't go wrong with Fibrenew. My Technician is always willing to explain things, answer my questions and points out everything that is broken and requires repair. They use quality materials so the repairs last and they are very reasonably priced. I would highly recommend Fibrenew.

Jen P, Hudson, NH

Today I got my couch cushions back from the Fibrenew Technician. I have to say that the work they did was amazing! Our leather hide couches were in really bad shape and now they look like new again. They totally replaced the leather hide panels that were ripped on the couches, matched the colours of the hide and the texture so well that nobody can tell the difference now. Excellent work, reasonable price, and really nice and honest company! We have no need to throw away our old couches! I highly recommend Fibrenew.

Stephen Bieda, Hamilton, ON

The refinishing to my family room furniture is magnificent. It is amazing that the worn chairs and ottomans have been restored to their original appearance. I have recommended Fibrenew to several of my friends. Fibrenew saved me money by refinishing vs. replacing the furniture.

Joanne M, Cartersville, GA

Our six dining chairs were blue leather and we changed our colour scheme. The cost of getting them recovered in brown leather was incredibly expensive. On researching leather dyers on the internet we were lucky enough to come across Fibrenew, whom we subsequently phoned and received a visit from an amazingly patient Technician.
After deciding on the right shade - changing my mind more than once! - the Technician took the chairs away and returned them a week or so later. They are just fantastic - a quarter of the price of recovering and we are delighted with the end result. Would highly recommend. An outstanding success and a pleasure to deal with.


Therese & Bob Colgan, Auckland, New Zealand

We had two very bad tears in visible and challenging spots on the sectional in our living room. I was dubious that anything could be done, but upon a recommendation we called Fibrenew. I was very impressed with their responsiveness, work, product and cost. The couch is repaired like new for a very reasonabl price. Great job Fibrenew!!


Greg Fine, Cumberland, BC

Thank you Fibrenew! I am totally happy with the job that was done repairing the cracks on the leather seats of my my car. The dealership told me that they could do it for $1,000 so I looked around for someone else. Fibrenew was recommended to me by a neighbour.

Fibrenew just finished installing the seat and it looks great. Again, thank you Fibrenew, and you know that I will pass your name on to friends and neighbours!

Joanne B, Okotoks, AB

After a significant hail storm I had several small holes on the side and front of my house as well as one fairly large (larger than a golf ball) sized hole right in the front above the garage door. While I was confident that my insurance would take care of this I was very concerned about matching the existing color of the siding if they were going to replace a few pieces of the siding.

My insurance company recommended Fibrenew and I am very glad they did. They were able to fix the holes in my existing siding and was able to match the colour perfectly. Most impressive of all was the hole in the front of the house, Fibrenew was able to fix to a perfect colour and texture match. All holes were fixed perfectly and no matter what angle the sun hits my house at, you cannot tell where the holes were.

All of this work was done quickly and now those spots that were patched are the strongest parts of my siding.

I am writing this because I am really impressed! Without any hesitation, I would recommend Fibrenew to anybody looking for vinyl siding repairs.

D. Evans, Calgary, AB

This note is to confirm that Fibrenew has been providing professional services for interior finishing of our aircraft. For several years, they have been performing touch-ups on leather components in our executive fleet of aircraft with superior craftsmanship.

Denis Cyr, Montreal, QC
Bombardier
Fibrenew repaired our leather sofas and chairs after 6 years of wear and tear and they look completely new. They also used airbrush technology to touch up our appliances and cover the scratches. This saved having to order and install expensive replacement parts.

Their  skill and workmanship are excellent. We are very pleased!

Mark & Cheryl Lupul, Edmonton, AB

Thank you for doing such a wonderful job of repairing my ripped leather jacket. Now it looks new!

E. Rossi, Brisbane, Australia

Thank you so much, my couch looks wonderful!

I have to tell you that I tried everyone in the Yellow Pages and all but three ignored my calls and emails. Two others made contact, but never followed through. You were the only one that seemed to want my business and in a very genuine, friendly and helpful manner. Give yourself a nice pat on the back!

If I ever hear of anyone needing your services, I will recommend you highly.

Laurie Z., Colorado Springs, CO

The Glencoe Golf & Country Club is a private 36 hole golf course located west of the city of Calgary. To keep the course in the best condition possible we own and operate over one hundred and twenty different pieces of equipment. Due to the amount of equipment and the profile of the course, if is very important to keep all of the equipment in the best shape possible. As part of this effort, Fibrenew was contracted to repair a large number and variety of vinyl seats on our equipment. The quality of the work that was done, surpassed our expectations. The quality of the repair and the exactness of the color-matching returned our equipment back to its original shape.

I would like to thank Fibrenew Industries for the extra effort that they put into the job and I would recommend Fibrenew to other customers that require this type of quality work

Mitch Jacques, Calgary, AB

It is seldom in this world when you are promised something and it is delivered exactly as promised. I was a skeptical after contacting Fibrenew regarding my two red leather couches that are 12 years old. They were in horrible condition and I knew it, but thought even a little fixing up had to be better than nothing at all. When your technician said they would look like new, I still thought..."anything is better than not fixing them so I let you try." I was willing to pay even if they looked somewhat nice. What a surprise I received when you showed up on my doorstep with couches in tow.

My husband and I were shocked at how well these two couches turned out. It is really amazing and you should be absolutely proud of yourself and your product. I would have spent over 5 thousand dollars buying new couches. You not only saved me money but made me very happy.

I would recommend Fibrenew to anyone. I got more than I paid for.

Laura S., St. Louis, MO