This week Fibrenew Tampa participated in The Great American Teach In in a Pasco County School. This was our third year sharing our unique business with our daughters school.  This is a day when  parents or people of the community come into a class room and spend 30 mins sharing what they do and some cool details about it.
I, Penny Torres of Fibrenew Tampa , shared how we began our franchise 5 1/2 years ago, I  shared what  kind of training we had and how school is very important for the success of their future. I also shared with the kids how math was a very week point for me and in the beginning of business I was a bit frustrated because I sometimes would short myself money or mis calculated some measurements. After some time I have strengthened this area out of necessity! Encouraging the children that out side traditional jobs/ or careers owning your own business can be an adventure and a risk but very, very rewarding.
We also looked at before and after pictures of all sorts of animal/pet damage. From dog bites, to cat scratches, pen marks and faded and worn color. They kids were intrigued to learn how even art is used in our business as we must custom color match for re-dyeing leather and vinyl and plastic. When we passed out individual swatches of pink or blue vinyl the kids were very excited. They really loved the smell of the leather swatches. It was a great time and a lot of fun to be in my daughters class and have her help me. When asked the question to the kids,"so what do you do if you get leather damage of some sort?" The young man yelled out on cue, "CALL FIBRENEW!" That made my day. The awesome part was I was able to give them information to benefit and bless their families rather then take from them. They learned its better to repair/ restore something old or damaged and maker it look like new again for a fraction of the cost of replacement. They also understand the importance of keeping our landfills free from large de bree that could definitely be reused and re-loved! Fibrenew  Amazing Leather Repairs! Heres a few pix of our time together!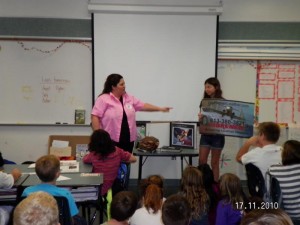 Related posts:
Tags:
alcohol based, Benefits of cleaning leather, Benefits of cleaning vinyl, boat, car, clean, cleaning, cleaning products, clean leather, commercial, couch destruction, couch repair, Coupons, cracked leather, dark spots, dashboard, DIY, dried out leather, faded leather, Fibrenew, fix, fully-finished leather, hairspray, home re-model, how to clean leather, leather, leather chairs, leather furniture, leather products, leather sofas, markers, mildew, motorcycle, oil, oil damage, olive oil, plane, plastic, prevent damage, refurbish, repair, restoration, sagging, sun damage, tree sap, types of leather, used furniture, used leather, vinyl, water damage,