My customers are confused about different types of leather – either because they aren't sure what they should look for when it comes time to buy new furniture, or because they have a problem (like a scratch or stain) that needs to be fixed.  This quick guide should help you understand the big picture.  If you have other questions, leave them in the comments below!
1. Fully-Finished Leather: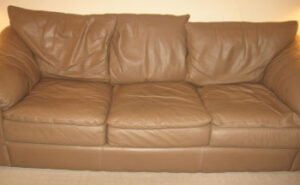 Fully-finished leather, seen frequently in furniture brands like Lazy Boy, Palliser, Natuzzi and Elite as well as in automotive interiors, has a durable surface finish that resists scratches and staining. Fully-finished leathers make up approximately 85% of leather used for furniture and 99% of leather used in the automotive industry today.